Retroperitoneal bleeding (wiki)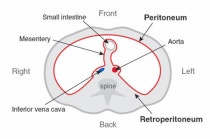 Paper: VTE in DLBCL, Ayyappan et al, Blood Journal, 2015
VTE: Venous Thromboembolic events
DLBCL: Diffuse large B-cell lymphoma

DLBCL patients present a high risk of VTE, with approximately half of all VTE events occurring early in the course of the disease. We were able to identify the presence of bulky disease at diagnosis and the absence of response to first line therapy as risk factors for developing VTE. Te use of anthracycline-containing regimens was protective against VTE, likely because of the increased rates of disease response. Patients with VTE had worsened outcomes, likely a result of the presence of persistent disease, although a direct effect of VTE on long-term outcomes cannot be ruled out. Our results highlight the need for a heightened awareness of the increased risk of VTE in DLBCL patients and the need for prevention strategies.
Luke Rannelli mentioned that it's not related to DVT (Deep vein Thrombosis) nor Lymphoma. So it has to linked to Heparin administration.
Risk factor: are of advanced age
MRI available @ RGH

Medicine:
statins – used to lower your blood cholesterol levels
anticoagulant medicines- such as warfarin
antiplatelet medicines – such as low-dose aspirin or angiotensin-converting enzyme (ACE) inhibitors (used to treat high blood pressure)
Lifestyle:
reduce salt intake
eat at least 5 portions of fruit and vegetables and 2 portions of fish per week (1 oily)
do a minimum of 30 minutes of moderate exercise such as walking or cycling at least 5 times a week